13.3-inch Vending Kiosk For Hotel DIY Check-in, Ticketing, Token Dispenser, And More
A full functional digital concierge tablet with face recognition capability, RFID/NFC reader, Access Card Dispenser, Thermal  printer & 2D code reader.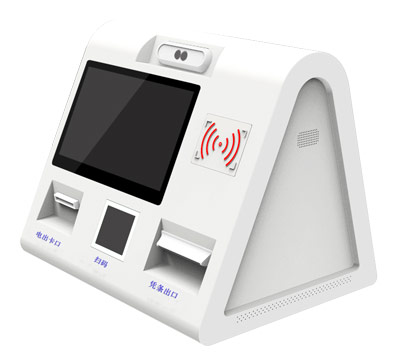 Multi-Functional Digital Concierge: Simplicity Outside, Complexity Inside
Payment, Access Control, Token Vending 3-in-1;
>Built-in NFC Card Reader;
>Built-in Barcode & 2D Code Scanner;
>Built-in Biometric Camera For Facial Recognition;
>Built-in RFID Card Dispenser Supporting Card Dispensing, Collecting, Code Re-Writing;
Triangle Form Ideal For Space-limit Tabletop Standing
>Triangle Form With Natural Mount-Free Secured Standing;
>Space-saving Installation;
>User-friendly Viewing Angle For Easy Operation;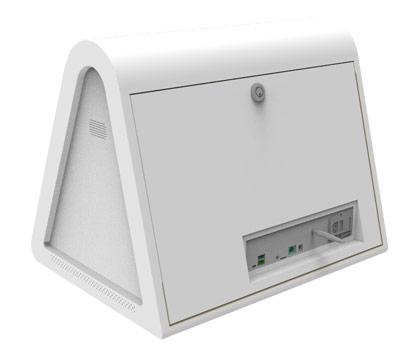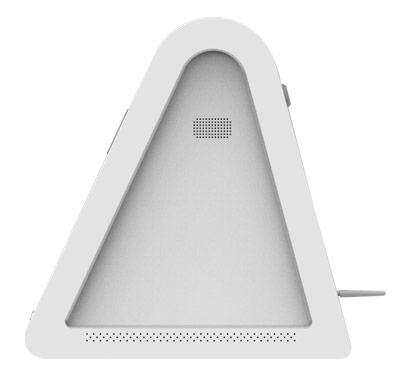 Rich Communication Interface For Developers
>All The User Elements Could Be Customer-Specific Configured;
>Developer-friendly API for 3rd party apps integration;
Multiply Form Factors, Multiply User Flows For Varied Applications
>Touchscreen Tablet Could be Available from 13.3-in to 31.5-in;
>Hardware Form Factors Could Be Changed Upon Project With Optional User Elements, e.g. a cinema ticketing kiosk would not require RFID card dispenser, while a token vending machine for a casino, gaming shop may not require a facial recognition camera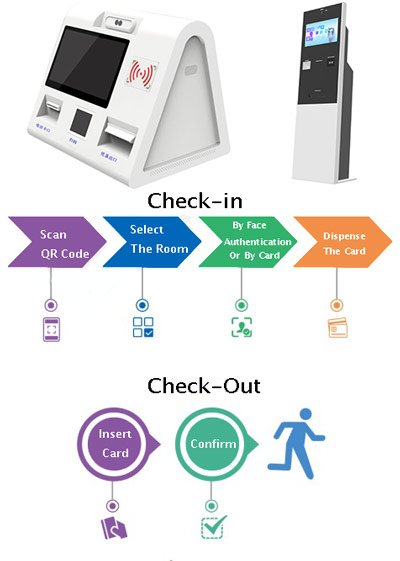 Model No.
Droid1303VT
Display
13.3" (337.8 mm) diagonal, color LCD, LED backlit
Resolution
1920x1080 pixels
Viewing Angle
178° horizontal, 178° vertical
Touchscreen
Projected capacitive
NFC Card Reader
Support protocals ISO14443A,
ISO14443B,IOS15693,ISO18092, Felica with APDU commands
Thermal Printer
80mm( with auto cutter )
Code Scanner
Support barcode & 2D code
Biometric Camera
2.0 MP pixels ( single lens, dual‐lens, 3D
optional )
Electronic Card Dispenser
support card dispensing, collecting,
code reading and writing.
Installation
Place-N-Play On Desktop, Or Integrate With Custom Kiosk Enclosure
Dimension
408x500x392mm
Weight
5.8kgs
Available Extension
Available with 21.5-inch & 3.15-inch With Other Stand Designs
Processor
Rockchip Dual‐Core Cortex‐A72 1.8GHz + Quad‐core
Cortex‐A53 1.4GHz RK3399
RAM
DDR3, 4GB (eMMC)
ROM
16GB
OS
Android 7.1
I/O Ports
1 x RJ45(via extended cable ), 4 x USB 2.0, 1 x USB 2.0
OTG, 1 x 3.5mm earphone, 1 x TF card slot, 1 x 12V/3A DC
5.0mm Jack, RS232 (extended cable)
Power Supply
DC 12V, 3A
Audio
Built-in stereo speakers 5W x 2 (Optional )
Bluetooth
4.0
Media Support
1080P other video decoders (VC-1, MPEG-1/2/4, VP8)
Color
White as default, custom color available
Storage Temperature
‐15 ‐‐ 65 degrees
Working Temperature
0 ‐‐ 50 degrees
Storage/Working Humidity
10 ‐‐ 90%
Our mission is to improve the quality of the clients' business life with safety, efficiency and peace of mind, via simple customization of our existing product lines or design & development of 100% new products.
Safety
Lowest Product Failure Rate, Product Life-circle Support;
Efficiency
Increase productivity and decrease costs;
Peace of mind
Proprietary, modular-base solution with interplay of hardware & software.
Project Goal Recognition
We understand each customer has their own unique knowledge about industrial smart electronics solution, they may face different challenges, thus have different project requirements with different expectation.
Due to the above, the starting point of our job is to recognize the actual project target, helping our customers address the multiple aspects of the whole project, from installation, user experience to maintenance.
Diagnosis
Our product team together with skilled engineers, project managers and customer success executives would engage directly with customer's cross-functional teams, to obtain the full view of client's challenge as well as the possible untapped pain, while presenting clients the existing solutions & case studies , thus clients could make better decisions about what they should buy.
Research & Design
We are able to develop the customized hardware and software precisely as per clients confirmed requirements.
Validation
We would quickly develop a concept-of-approval prototype to realize what clients need, in order to validate the requirements
Test & Trial
We would implement comprehensive testing via trial production, ensuring zero risk of mass-production failure.
Mass Production & Launch
Mass productions come as carefully planned, informed of our customers, with daily logging data shared so that shipment schedule could be reassured.
SZ1 makes everything clear, simple and transparent, like plugging us into Shenzhen local resources.
For some people, I'm sure SZ1 is just a side show in their business, but for us, it's a critical part of our success. We have increased revenue 30% since working with SZ1."
Ozalp Tozan, Research Lab,  PhD & Technology Director of Atilim University
SZ1 gives us peace of mind as a great technology partner for the most challenging project with A-brand clients.
SZ1 builds retail display solution for us with every user element modular preset, every project they response rapidly, even if we ask for a change in the last minute… amazing partner.
They analyse and understand our requirements for coffee machine vending kiosk like a doctor, many intractable issues were addressed & recognized before project implementation.
Some Of Exciting Projects We Accomplished Before…
Interested ?  Send US an Inquiry !