Vibration Sensors
The Best IoT Sensing Solutions—Advanced MEMS technology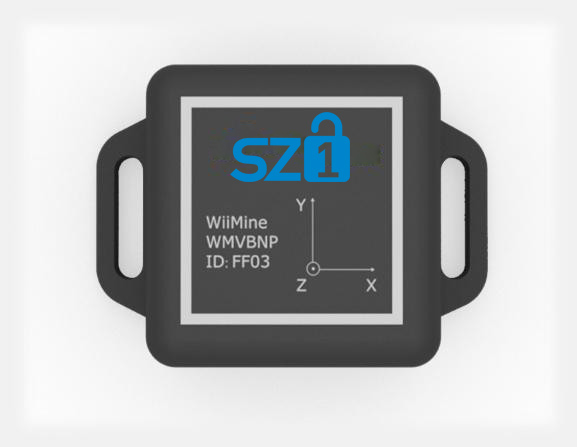 Vibration sensor: The heart of vibration monitoring system
Vibrations are the basis for assessing machine conditions. Condition monitoring essentially comprises the measurement and recording of overall vibration values and operating parameters. It provides information and allows the diagnosis of the general machine condition or very specific 'disorders' of the machine.
SZ1 has brought up a new smart vibration monitoring system with MEMS and IoT technologies. Breakthroughs in MEMS technology make sensors much smaller and affordable. Nowadays with same budget, more sensors could be placed on machine components to precisely localize the vibrating source. While the IoT technology provides wireless connectivity so that experts could gain near-real-time visibility into machine conditions without traveling to locations. WiiMine incorporates 3-axial accelerometer, temperature sensor, wireless connectivity and battery into one, easy-to-use product. Its measurement
range (up to 16 g acceleration), sampling rates (up to 1.6 kHz), long battery life (1 year typical), and small, portable model make it ideal for many vibration measurement and monitoring applications.
RMS algorithm simplifies the vibration measurement
WiiMine supports two mounting methods: adhesive mounting and magnet mounting. Adhesive mounting is used with industrial strength double-sided tape for dielectric surface targets, while magnet mounting is used for metal surface targets. Its rugged enclosure assures WiiMine of accurate vibration data acquisition.
WiiMine performs RMS (root mean squared) averaging for vibration measurement. Because acceleration signals are extremely fast by nature, they require high speed sampling and computationally intensive processing. The onboard RMS algorithm provides a slow moving output so that it can be easily measured by a low speed system, greatly simplifying vibration monitoring and measurement works.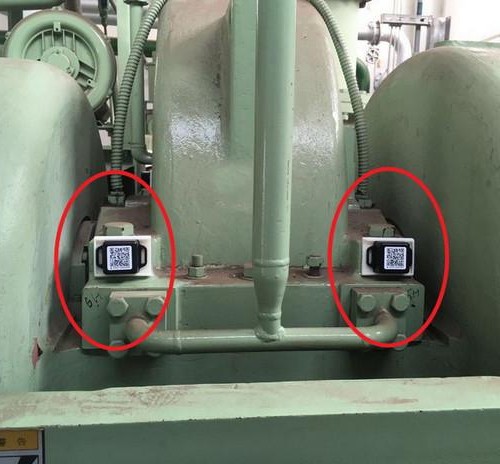 • Capacitive MEMS (digital) accelerometer
• No hard wires – support wireless connectivity and have inside battery
• Easy installation: adhesive mounting or magnet mounting
• Optimized for low energy, long battery life
• Expandable to hundreds of nodes per system
• Factory calibrated average vibration output
• Adjustable sample rate and filtering in software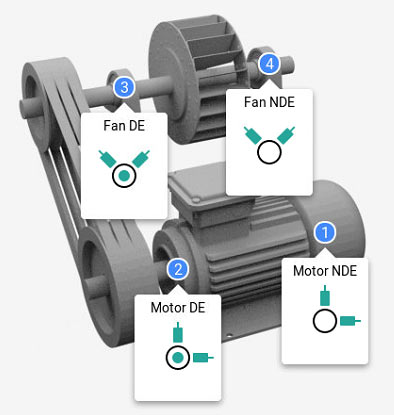 • Continuous and cyclic acquisition of overall vibration values;
• 24/7 remote monitoring, skip the costly oldfashioned manual inspections;
• Enables the identification of machine faults and give early warnings;
• Localizes the affected components to provide information on root causes;
• Prevent equipment failures and avoid unscheduled downtime;
| | |
| --- | --- |
| Product Picture | |
| Model No. | WH-SXT-VSU-000U-201 |
| Operation | |
| Sensor Type | 3-axial MEMS accelerometer |
| Measuring range | Maximum +/-16G |
| Resolution | 0.001g |
| Sampling rate per channel | 1.6 kHz |
| Frequency response | 0 Hz ~ 800 Hz |
| Filter | Digital filter RMS for stable measurement |
| Angle measurement range | 360° |
| Angle measurement resolution | 0.09° |
| Temperature measurement range | 0 °C ~ 60 °C |
| Temperature measurement accuracy | ± 0.5 °C, 15 °C ~ 40 °C |
| Humidity measurement range | 0% ~ 100% relative humidity |
| Humidity measurement accuracy | ± 3.5% relative humidity, 20% to 80% relative humidity |
| Communications | |
| Radio | Vibration/angle measurement: 2.4GHz ISM Bluetooth Smart ;Vibration/angle alert: Bluetooth Smart |
| Range | 20 m |
| Antenna | Built-in PCB antenna |
| Electrical | |
| Power Supply | Built-in battery |
| Battery Type | Lithium-ion |
| Battery Life | 1 year, data uploading rate every 5 minutes (typical) |
| Mechanical | |
| Dimensions | 52 mm x 36 mm x 20 mm (main body) |
| Material | PC |
| Weight | 60g |
| Environmental | |
| Operating temperature | -15 °C ~ 75 °C |
| IP rating | IP65 |
| Interfaces | |
| GPIO interface | No |
Our mission is to improve the quality of the clients' business life with safety, efficiency and peace of mind, via simple customization of our existing product lines or design & development of 100% new products.
Safety
Lowest Product Failure Rate, Product Life-circle Support;
Efficiency
Increase productivity and decrease costs;
Peace of mind
Proprietary, modular-base solution with interplay of hardware & software.
Project Goal Recognition
We understand each customer has their own unique knowledge about industrial smart electronics solution, they may face different challenges, thus have different project requirements with different expectation.
Due to the above, the starting point of our job is to recognize the actual project target, helping our customers address the multiple aspects of the whole project, from installation, user experience to maintenance.
Diagnosis
Our product team together with skilled engineers, project managers and customer success executives would engage directly with customer's cross-functional teams, to obtain the full view of client's challenge as well as the possible untapped pain, while presenting clients the existing solutions & case studies , thus clients could make better decisions about what they should buy.
Research & Design
We are able to develop the customized hardware and software precisely as per clients confirmed requirements.
Validation
We would quickly develop a concept-of-approval prototype to realize what clients need, in order to validate the requirements
Test & Trial
We would implement comprehensive testing via trial production, ensuring zero risk of mass-production failure.
Mass Production & Launch
Mass productions come as carefully planned, informed of our customers, with daily logging data shared so that shipment schedule could be reassured.
SZ1 makes everything clear, simple and transparent, like plugging us into Shenzhen local resources.
For some people, I'm sure SZ1 is just a side show in their business, but for us, it's a critical part of our success. We have increased revenue 30% since working with SZ1."
Ozalp Tozan, Research Lab,  PhD & Technology Director of Atilim University
SZ1 gives us peace of mind as a great technology partner for the most challenging project with A-brand clients.
SZ1 builds retail display solution for us with every user element modular preset, every project they response rapidly, even if we ask for a change in the last minute… amazing partner.
They analyse and understand our requirements for coffee machine vending kiosk like a doctor, many intractable issues were addressed & recognized before project implementation.
Some Of Exciting Projects We Accomplished Before…
Interested ?  Send US an Inquiry !