Shelf-edge Multi-LCD Strip Displaying Your Compelling Video Ads In A Group Of Split Screens, To Generate Massive Attraction Like A Theatre Display Of 1.5M Wide

 
Tech-free Integration Into Shelf-Edge Via Connecting Media Players & Synchronizer, Modular Displays Available From 4.3 inch, 7 inch, 10.1 inch, 13.3 inch To 31.5 inch.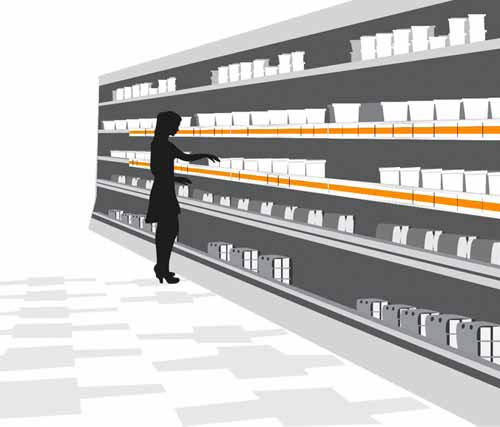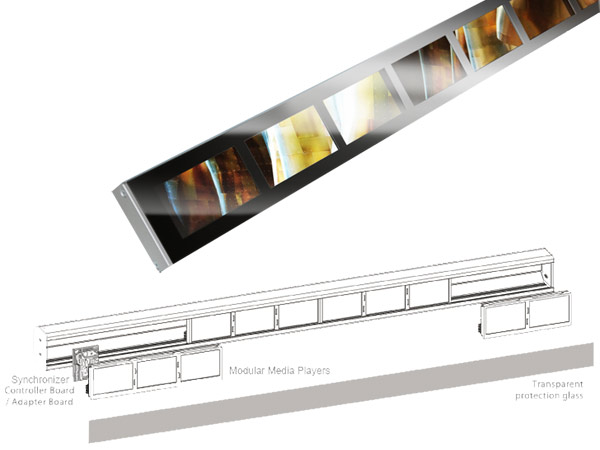 Shelf Video Strip Modular Design, Quick Response To Custom Projects
Our shelf video strip consists of 3 parts, the screen cell, media player board, and synchronizer controller board. In order to quickly response to custom projects, we have built the synchronizer and 3 media players together into one single board, in this way, to expand to other cell quantity model, we could use our own single cell media player board.
The synchronizer is to control the playback of the videos stored in each media players as well as the USB auto copy sequence
Shelf Video Strip Up To 12 Screen Cells
The shelf video strip supports up to 12 cells per strip, actually, the android version supports up to 64×64 cell matrix technically. Each screen has its only video content either from the dedicated media player for the screen cell, or the distributed video from the android controller via HDMI-TTL mechanism.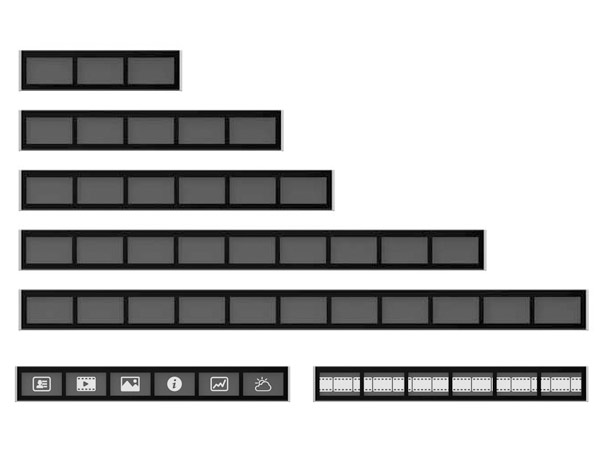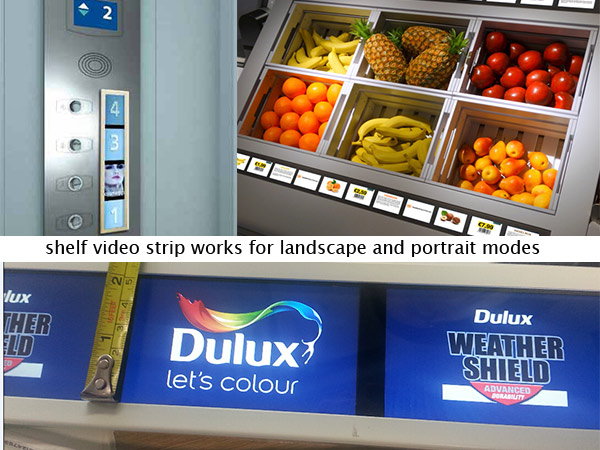 Work In Landscape & Portrait Modes
The shelf video strip has been widely used for the scenario that is space-restrict while still needs massive attraction, the suitable uses & markets are Supermarkets, Pharmacies, Service Stations, Banks, Hardware Stores, Clothing Stores, Electronic Stores, Duty Free Stores, Phone Outlets, Vending Machines, Liquor Stores, Elevator, Gaming Machines,or under a quick pizza maker's retail stand.
Not every scenario is working in landscape, there is also applications that need to be working in portrait mode ( which is supported ).
Stand-alone For Plug & Play, Or Android Networked With Retail IoT & CMS Integration
We have stand-alone version with content update via USB auto-copy, also we have networked, android version with retail IoT and CMS integration, sending multi-layer content to the video strip remotely and grouply.
Android shelf video strip is much different with stand-alone one in the settings, technically, it is a daisy-chain controller to distribute video to each screen cells like video-wall solution ( a video wall made of small screens with only one row but many columns ), the source video is only one file and the solution will crop the video and send the right part to the destination cell automatically ( based on the settings of  x, y location ).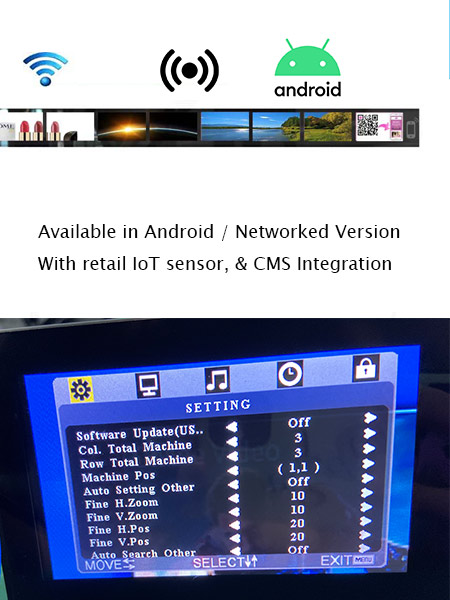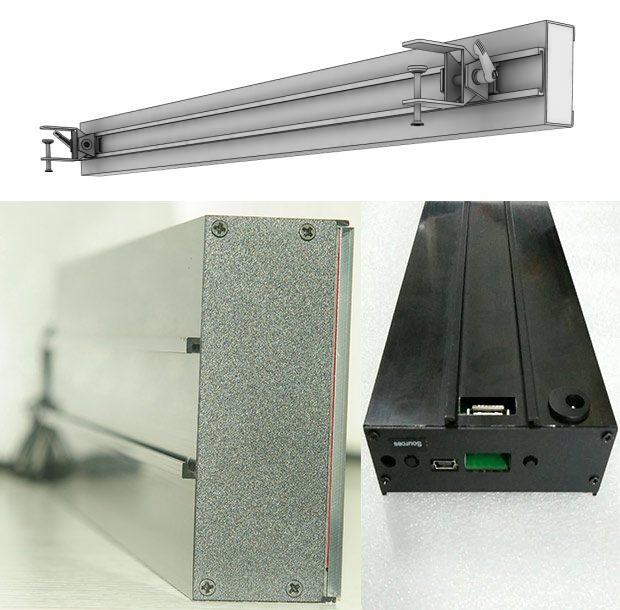 Shelf Edge Clamp Mounts, Optional Custom Based On Your Ideas
As default, we have a slide-in clamp mount for on-shelf installations, it is simple and secured, we can also customize the shelf strip mounts according to different installation profiles.
| Model No. | Screen Cell Size | Resolution Per Cell | Brightness | Quantity of Cells | Content Update | Availability |
| --- | --- | --- | --- | --- | --- | --- |
| DS350X | 3.5-inch | 320x240 | 500 nits | up to 9 | USB (stand-alone) | available |
| DS430X | 4.3-inch | 480x272 | 500 nits | up to 9 | USB (stand-alone) | available |
| DS430XA | 4.3-inch | 480x272 | 500 nits | up to 9 | WiFi (Android ) | available |
| DS070X | 7-inch | 1024x600 | 350 nits | up to 9 | WiFi (Android ) | project only |
| DS100X | 10.1-inch | 1280x800 | 350 nits | up to 9 | WiFi (Android ) | project only |
| DS110X | 11.6-inch | 1920x1080 | 250 nits | up to 9 | WiFi (Android ) | project only |
| DS130X | 13.3-inch | 1920x1080 | 300 nits | up to 9 | WiFi (Android ) | project only |
| DS150X | 15.6-inch | 1920x1080 | 250 nits | up to 9 | WiFi (Android ) | project only |
| DS180X | 18.5-inch | 1366x768 | 250 nits | up to 9 | WiFi (Android ) | project only |
| DS220X | 21.5-inch | 1920x1080 | 250 nits | up to 9 | WiFi (Android ) | project only |
Our mission is to improve the quality of the clients' business life with safety, efficiency and peace of mind, via simple customization of our existing product lines or design & development of 100% new products.
Safety
Lowest Product Failure Rate, Product Life-circle Support;
Efficiency
Increase productivity and decrease costs;
Peace of mind
Proprietary, modular-base solution with interplay of hardware & software.
Project Goal Recognition
We understand each customer has their own unique knowledge about industrial smart electronics solution, they may face different challenges, thus have different project requirements with different expectation.
Due to the above, the starting point of our job is to recognize the actual project target, helping our customers address the multiple aspects of the whole project, from installation, user experience to maintenance.
Diagnosis
Our product team together with skilled engineers, project managers and customer success executives would engage directly with customer's cross-functional teams, to obtain the full view of client's challenge as well as the possible untapped pain, while presenting clients the existing solutions & case studies , thus clients could make better decisions about what they should buy.
Research & Design
We are able to develop the customized hardware and software precisely as per clients confirmed requirements.
Validation
We would quickly develop a concept-of-approval prototype to realize what clients need, in order to validate the requirements
Test & Trial
We would implement comprehensive testing via trial production, ensuring zero risk of mass-production failure.
Mass Production & Launch
Mass productions come as carefully planned, informed of our customers, with daily logging data shared so that shipment schedule could be reassured.
SZ1 makes everything clear, simple and transparent, like plugging us into Shenzhen local resources.
For some people, I'm sure SZ1 is just a side show in their business, but for us, it's a critical part of our success. We have increased revenue 30% since working with SZ1."
Ozalp Tozan, Research Lab,  PhD & Technology Director of Atilim University
SZ1 gives us peace of mind as a great technology partner for the most challenging project with A-brand clients.
SZ1 builds retail display solution for us with every user element modular preset, every project they response rapidly, even if we ask for a change in the last minute… amazing partner.
They analyse and understand our requirements for coffee machine vending kiosk like a doctor, many intractable issues were addressed & recognized before project implementation.
Some Of Exciting Projects We Accomplished Before…
Interested ?  Send US an Inquiry !