Parking Lot Sensors
The Best IoT Sensing Solutions—Directly from the street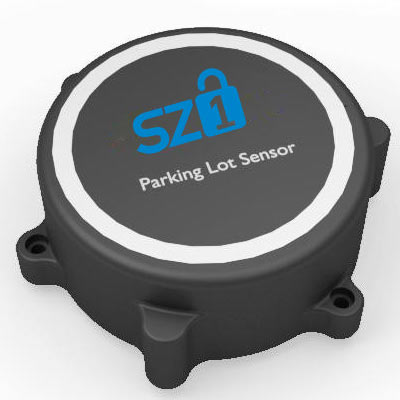 Parking lot sensor: Using a magnetic field detects the presence of vehicles
SZ1's in-ground parking lot sensor enables you to monitor your parking facilities efficiently with real-time, individual vehicle, individual space data. It is the key to smart, active parking lot management.  The effectiveness of a parking lot management system is greatly relied on detection of available parking spaces. WiiUNG
offers parking lot sensing technology that can be easily tailored to your existing parking system, to monitor parking traffic, and to gather live, precise information from each individual parking lot space.
The heart of the WiiUNG sensor is an electro-magnetic sensor that measures the X, Y and Z-axis components of the Earth's magnetic field. As vehicles come within range of the sensor, changes in the surrounding magnetic field occur and are detected. Each sensor continually monitors the background magnetic field using advanced filtering and noise reduction techniques to differentiate parking events from other electromagnetic interferences or false events.
Smaller Sized, More Friendly For Installation & Maintainance
SZ1 has developed a parking lot sensor that is scarcely bigger than a mug cup in terms of its circumference and measures around about three centimeters in height. The sensors are installed in parking garages or on-street parking spaces. The special thing about this product is that the sensors operate wirelessly and are powered by batteries, which eliminates the effort and expense of having to lay cables.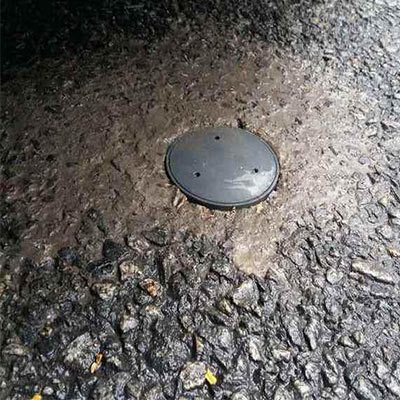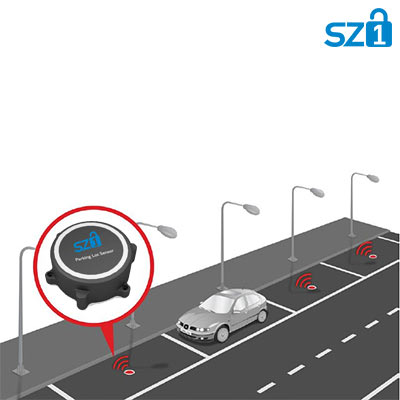 Vehicle Detection Sensors – Smart Parking
The smart sensor transmits data via LPWAN (Low Power Wide Area Network) technologies, i.e., NB-IoT (Narrow Band-IT) or UNB-IoT (Ultra Narrow Band-IoT), and is battery powered for several years, so it requires no wires for installation and can be easily fitted into each parking lot space. The key to active parking lot management is the reliable detection of available parking spaces. It is achieved by wireless sensor in every parking space, which can detect the presence of a car in the space and note the arrival/exit time of a vehicle. Parking lot statuses (occupied or idle) are detected and transmitted to a cloud database. This information then be accessed by users through website or mobile APPs to receive real-time updates.
• Electro-magnetic sensor technology in every inground sensor
• Wireless for ease of installation and minimal costs by eliminating civil works
• Powered by long-life batteries for low maintenance
• Robust construction to resist both vandalism and accidental damage
• Easy integration with existing parking management systems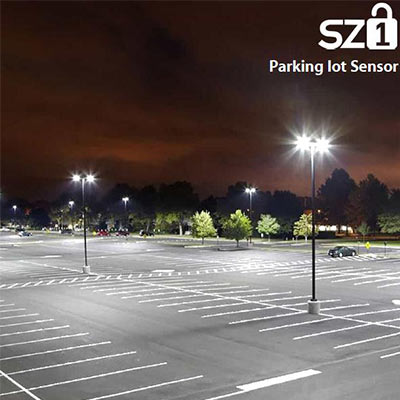 • Parking space occupancy detection
• Vehicle detection in drive-through
• Vehicle counting in toll booths
• Enable advanced parking space management and planning
• Enable advanced parking guide system
Product Guide
Model No.
WH-SXT-EMS-000N-301
Operation
Sensor Type
3-axial magnetic-field MEMS sensor
Measuring range
Maximum +/-16G selectable magnetic full scales
Communications
Radio
NB-IoT
Range
1~2 km
Electrical
Power source
Built-in battery
Battery type
Lithium-ion
Battery lifetime
5~7 years
Input voltage
3.6 V
Battery capacity
8500 mAh
Mechanical
Dimensions
Φ90mm x height33 mm
Material
Polycarbonate
Weight
1.2kg
Environmental
Operating
temperature
-40 °C to 85 °C
Compressible Strength
>2000 kgs
IP Rating
IP68
Interfaces
GPIO interface
No
Our mission is to improve the quality of the clients' business life with safety, efficiency and peace of mind, via simple customization of our existing product lines or design & development of 100% new products.
Safety
Lowest Product Failure Rate, Product Life-circle Support;
Efficiency
Increase productivity and decrease costs;
Peace of mind
Proprietary, modular-base solution with interplay of hardware & software.
Project Goal Recognition
We understand each customer has their own unique knowledge about industrial smart electronics solution, they may face different challenges, thus have different project requirements with different expectation.
Due to the above, the starting point of our job is to recognize the actual project target, helping our customers address the multiple aspects of the whole project, from installation, user experience to maintenance.
Diagnosis
Our product team together with skilled engineers, project managers and customer success executives would engage directly with customer's cross-functional teams, to obtain the full view of client's challenge as well as the possible untapped pain, while presenting clients the existing solutions & case studies , thus clients could make better decisions about what they should buy.
Research & Design
We are able to develop the customized hardware and software precisely as per clients confirmed requirements.
Validation
We would quickly develop a concept-of-approval prototype to realize what clients need, in order to validate the requirements
Test & Trial
We would implement comprehensive testing via trial production, ensuring zero risk of mass-production failure.
Mass Production & Launch
Mass productions come as carefully planned, informed of our customers, with daily logging data shared so that shipment schedule could be reassured.
SZ1 makes everything clear, simple and transparent, like plugging us into Shenzhen local resources.
For some people, I'm sure SZ1 is just a side show in their business, but for us, it's a critical part of our success. We have increased revenue 30% since working with SZ1."
Ozalp Tozan, Research Lab,  PhD & Technology Director of Atilim University
SZ1 gives us peace of mind as a great technology partner for the most challenging project with A-brand clients.
SZ1 builds retail display solution for us with every user element modular preset, every project they response rapidly, even if we ask for a change in the last minute… amazing partner.
They analyse and understand our requirements for coffee machine vending kiosk like a doctor, many intractable issues were addressed & recognized before project implementation.
Some Of Exciting Projects We Accomplished Before…
Interested ?  Send US an Inquiry !