Lift & Learn RFID Retail Solution Letting Shoppers Pickup & Learn Product Info By Playing Corresponding Videos Triggered By RFID Tags
Enhance In-Store Shopper Engagement & Record The User Interactivity Logging Details With RFID Technology.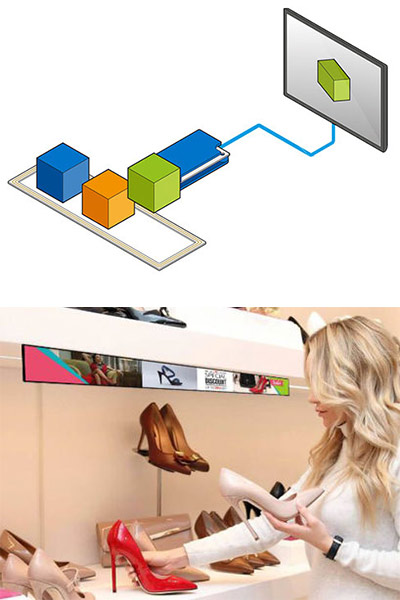 Lift and Learn, The Most Natural & Engaging Shopper Experience
The conventional user elements for retail advertising are push buttons and motion sensor, while LED flashing to invite shopper for engagement, research shows that most of informed shoppers have some level of objections for these kind of user elements.
While Lift and learn RFID tagged solution is different, people don't touch visible user elements, they touch the retail products which is very natural for any shopping scenarios. Once people pickup the retail demonstration item with RFID tag, a pre-designated video will be triggered to deliver product educational or pomotional info, there is no objection there. That's why Lift and learn RFID retail solution have been widely used for shops, cloths, electronics, cosmetics industries.
Total Solution Provider For Lift-n-learn RFID Advertising Solutions
A really successful lift and learn RFID retail solution consists the following components:
retail video player
RFID reader under the shelf
RFID tags sticked on the retail item
Other supportive retail elements like light guide pad, LED lighting.
In order to truely enpower retail integrators to provide quick and cost-effective solutions to the retail field, we have developed our RFID writer and reader combo to let end-user generate their RFID tag, then end-user could re-organize their retail advertising compaign via generating their own tags (based on rules provided ).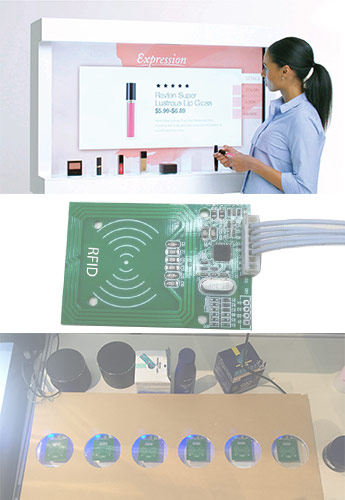 | Item/Solution | Android /ARM | Embedded MCU |
| --- | --- | --- |
| Processor | PX30/ RK3288 | Mstar V59 |
| RAM | 2GB | Built-in 64MB |
| ROM | 8GB | External Memory |
| Network | WiFi & Ethernet | No |
| Camera | 2.0MP Frontal Camera | No |
| Touchscreen | Capacitive Multi-touch | Capacitive, Single-touch |
| Interface | SD Card;USBx4;DC in;RJ45,3.5mm | SD Card, USB, 3.5mm, DC in |
| Audio | MP3,WMA,OGG,AAC,M4A,FLAC,APE,WAV | MP3, FLAC, WAV |
| Video | AVI,H.263,H.264,VC‐1,MPEG‐2,MPEG‐4,DIVD/DIVX,Real8/9/10,RM,RMVB,PMP,FLV,MP4,M4V,VOB,WMV, 3GP,MKV,AS- F,3G2M4V,MJPEG,RV10 up to 1920x1080 | AVI (Xvid decoder ), up to 1920x1080 |
| Photo | JPG, BMP, PNG, GIF | JPG, BMP, PNG, GIF |
| RFID Comm. | USB, Serial | USB, Serial |
| RFID Freq. | 13.56MHz default ( other freq supported ) | 13.56MHz |
| Form Factor | Frame, Openframe, Boards Kit | Frame, Openframe, Boards Kit |
Notes:
>Available screen sizes: 7.0/ 8.0/10.1/11.6/13.3/15.6/17.3/18.5/21.5/23.8/27/31.5/43/55-inch;
>Trigger buttons for selection video / volume combined with LED lighting;
>Output for LED lightning 5/12V;;
>Any retail POP related senors such as Motion Sensor / Tilt-up light Sensor;
>Multiple Audio Outputs for speakers & headphones demonstration;
>Auto-sensing for shopper's audio device line-in;
Our mission is to improve the quality of the clients' business life with safety, efficiency and peace of mind, via simple customization of our existing product lines or design & development of 100% new products.
Safety
Lowest Product Failure Rate, Product Life-circle Support;
Efficiency
Increase productivity and decrease costs;
Peace of mind
Proprietary, modular-base solution with interplay of hardware & software.
Project Goal Recognition
We understand each customer has their own unique knowledge about industrial smart electronics solution, they may face different challenges, thus have different project requirements with different expectation.
Due to the above, the starting point of our job is to recognize the actual project target, helping our customers address the multiple aspects of the whole project, from installation, user experience to maintenance.
Diagnosis
Our product team together with skilled engineers, project managers and customer success executives would engage directly with customer's cross-functional teams, to obtain the full view of client's challenge as well as the possible untapped pain, while presenting clients the existing solutions & case studies , thus clients could make better decisions about what they should buy.
Research & Design
We are able to develop the customized hardware and software precisely as per clients confirmed requirements.
Validation
We would quickly develop a concept-of-approval prototype to realize what clients need, in order to validate the requirements
Test & Trial
We would implement comprehensive testing via trial production, ensuring zero risk of mass-production failure.
Mass Production & Launch
Mass productions come as carefully planned, informed of our customers, with daily logging data shared so that shipment schedule could be reassured.
Some Of Exciting Projects We Accomplished Before…
Interested ?  Send US an Inquiry !