Photovoltaic sensors
The Best IoT Sensing Solutions—Monitoring and rapid shutdown technology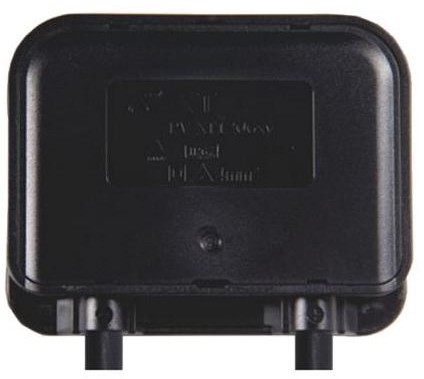 Photovoltaic sensor:Module-level monitoring
Module-level monitoring provides the most precise and detailed information on the performance of solar power system, it helps to identify module problems such as partial shadings, PIDs or blown diodes. With such solution, O&M teams are able to save their fault-finding time and increase maintenance efficiency.
The sensor unit is the core component of the NxSensor system, it is a MLPE (Module-Level Power Electronics) device that can be integrated into different forms of solar panel's junction box or add-on/retrofit box, and it continuously measures voltage and temperature of the associated PV module.
Besides monitoring, the sensor unit also supports modulelevel rapid shutdown functionality, complying with NEC 2017 690.12 RSD requirements.
Monitor a solar panel's performance
We use the integrated junction box to illustrate how it works. For add-on/retrofit box, the working principle is similar, the difference is in wiring connections and the box shells. The sensor unit has a pair of thimbles sticking onto the positive and negative sides of the conducting strips in the junction box, respectively. They are used to sample the panel's voltage output. Since all panels on the same string have same current, voltage is an important index to measure a panel's performance. The sensor unit also has an onboard temperature sensor, it is used to measure the temperature of a junction box. Defective bypass-diodes in junction box are a common failure, they most often show up as rising temperature at early stage.
RMS algorithm provides a slow moving output so that it can be easily measured by a low speed system, greatly simplifying vibration monitoring and measurement works.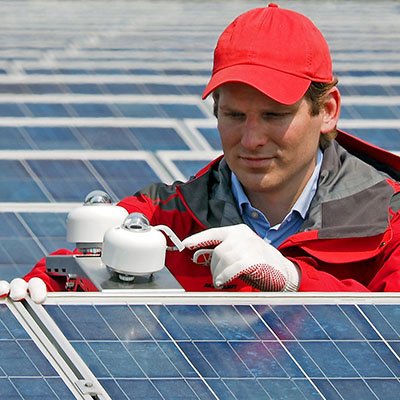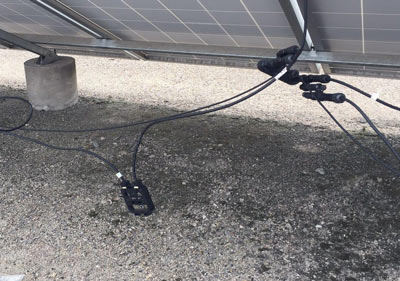 The National Electrical Code (NEC) applies to the construction of PV systems installed on buildings. The 2014 version of the NEC includes a requirement for rapid shutdown of controlled conductors outside the PV array boundary. The proposed 2017 NEC modified that rule to effectively require shutdown at the module level, which could have a dramatic impact on how systems are designed and installed moving forward.
• Enable solar PV module-level monitoring;
• Enable solar PV module-level rapid shutdown;
• Wireless connectivity for module-level communication;
• Assign digital ID and RF-based solar panel management;
• Compact size, various forms of junction box supported;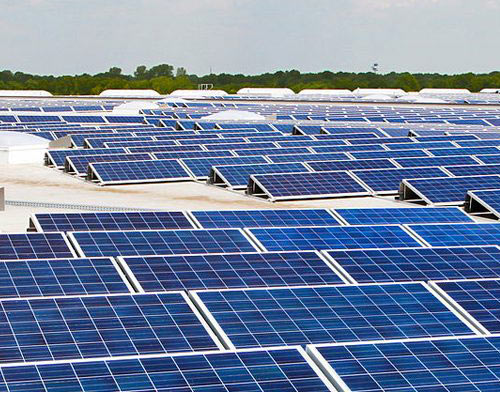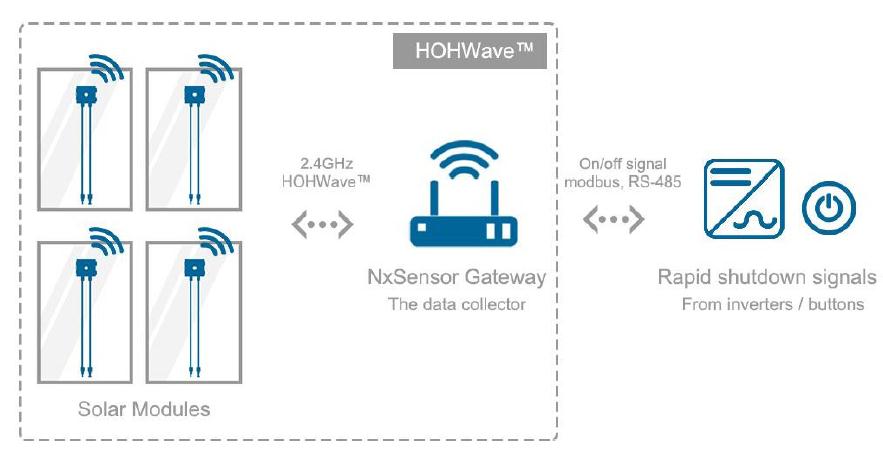 • Monitors the voltage and temperature data of each module, giving insight into module-level performance with unprecedented granularity.
• Identifies erroneous connection and associated electrical arcs in the junction box, which helps to improve the reliability and safety of a system.
• Complies with rapid shutdown requirements of 2017 NEC 690.12, ensuring the safety of system installers, operators and emergency responders.
• Modules send data to a gateway using a wireless mesh network architecture – HOHWave®, it is a lowcost and extensible communication system.
Product Guide
Product Range
NX-SXT-SJB-000U-301
NX-SXT-ABX-000U-301
NX-SXT-ABM-000U-301
Operation
Voltage range
7 V ~ 60 V, ±0.2 V
7 V ~ 60 V, ±0.2 V
7 V ~ 60 V, ±0.2 V
Temperature range
-30°C to +75°C, ±0.5°C
-30°C to +75°C, ±0.5°C
-30°C to +75°C, ±0.5°C
Communications
Radio
2.4 GHz ISM band
2.4 GHz ISM band
2.4 GHz ISM band
Wireless protocol
HOHWave ® MESH Network
HOHWave ® MESH Network
HOHWave ® MESH Network
Electrical
Rated voltage
1000 V / 1500 V
1000 V / 1500 V
1000 V / 1500 V
Rated current
15 A
15 A
15 A
Max. Input voltage
90 V
90 V
90 V
Power consumption
< 50 mW
< 50 mW
< 50 mW
Battery lifetime
3~5 years
6~8 years
3~5 years
Mechanical
Dimensions
98.8 mm x 17.4 mm x 78.5 mm
138 mm x 28 mm x 25 mm
105.1 mm x 18.5 mm x 18.5 mm
Material
Polycarbonate
Polycarbonate
Polycarbonate
Environmental
Operating
temperature
-30 °C to 75 °C
-30 °C to 75 °C
-30 °C to 75 °C
Storage temperature
-40 °C to 85 °C
-40 °C to 85 °C
-40 °C to 85 °C
IP Rating
IP68
IP68
IP68
Interfaces
MC-4/MC-4 compatible
Yes
Yes
Yes
Our mission is to improve the quality of the clients' business life with safety, efficiency and peace of mind, via simple customization of our existing product lines or design & development of 100% new products.
Safety
Lowest Product Failure Rate, Product Life-circle Support;
Efficiency
Increase productivity and decrease costs;
Peace of mind
Proprietary, modular-base solution with interplay of hardware & software.
Project Goal Recognition
We understand each customer has their own unique knowledge about industrial smart electronics solution, they may face different challenges, thus have different project requirements with different expectation.
Due to the above, the starting point of our job is to recognize the actual project target, helping our customers address the multiple aspects of the whole project, from installation, user experience to maintenance.
Diagnosis
Our product team together with skilled engineers, project managers and customer success executives would engage directly with customer's cross-functional teams, to obtain the full view of client's challenge as well as the possible untapped pain, while presenting clients the existing solutions & case studies , thus clients could make better decisions about what they should buy.
Research & Design
We are able to develop the customized hardware and software precisely as per clients confirmed requirements.
Validation
We would quickly develop a concept-of-approval prototype to realize what clients need, in order to validate the requirements
Test & Trial
We would implement comprehensive testing via trial production, ensuring zero risk of mass-production failure.
Mass Production & Launch
Mass productions come as carefully planned, informed of our customers, with daily logging data shared so that shipment schedule could be reassured.
SZ1 makes everything clear, simple and transparent, like plugging us into Shenzhen local resources.
For some people, I'm sure SZ1 is just a side show in their business, but for us, it's a critical part of our success. We have increased revenue 30% since working with SZ1."
Ozalp Tozan, Research Lab,  PhD & Technology Director of Atilim University
SZ1 gives us peace of mind as a great technology partner for the most challenging project with A-brand clients.
SZ1 builds retail display solution for us with every user element modular preset, every project they response rapidly, even if we ask for a change in the last minute… amazing partner.
They analyse and understand our requirements for coffee machine vending kiosk like a doctor, many intractable issues were addressed & recognized before project implementation.
Some Of Exciting Projects We Accomplished Before…
Interested ?  Send US an Inquiry !